Miki Tsurugi



Name

Miki Tsurugi

Japanese

剣美姫

Romaji

Tsurugi Miki

Age

29

Gender

Female

Hair

Red

Eyes

Red

Height

163 cm

Measurements

Bust: 80 cm
Waist: 55 cm
Hips: 82 cm

Occupation

Anesthesiologist

Affiliation

Mochizuki General Hospital
Black Label Organization

Weapons

NTW-20, M14 EBR

Voiced By

Masumi Asano (Japanese)
Miki Tsurugi (剣美姫 Tsurugi Miki) is a anesthesiologist at Mochizuki General Hospital, Mikoto's mentor and Yuko's childhood friend. She's the expert chemist and sniper of the Black Label, and tends to be the voice of reason in her team. She invented an anesthesia that works as a truth serum and the patient doesn't remember anything afterwards.
Appearance
Edit
She has violet hair and red eyes.When shes doing her job
She wears a purple combat uniform.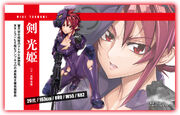 Personality
Edit
She seems to have had a love history with Shinichiro Inunaki.
Specialty/Weapons
Edit
Miki specializies in using ranged weapons. She also uses her small size to her advantage while maneuvering around in a stealthy manner. Weapons that Miki has used include:
NTW-20 (Indra Arrow)
M14 EBR